Wood Badge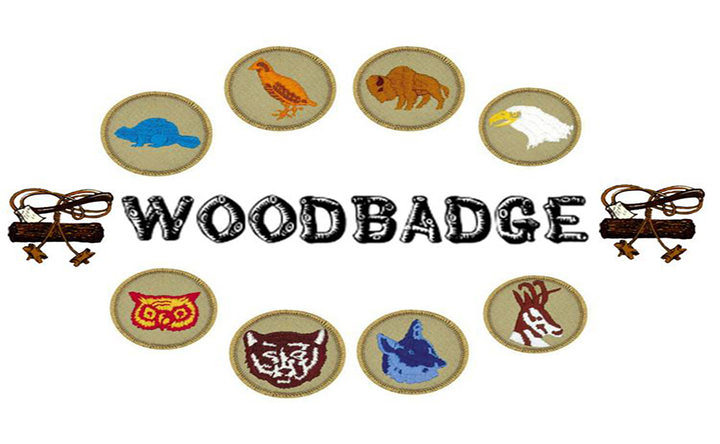 Answers to Wood Badge Questions
What is Wood Badge?
Wood Badge is the premiere adult leadership training program of the Boy Scouts of America and is recognized by Scouting organizations around the world.
What is the purpose of Wood Badge?
The purpose of Wood Badge is to help you develop new skills and techniques to deliver the highest quality Scouting program.
How much time will Wood Badge take?
Wood Badge consists of two phases. Phase One, the Practical Phase, is a two-weekend course taught at Camp Daniel Boone which includes the writing an individualized plan called a "Wood Badge Ticket." Phase Two, the Application Phase, can last up to 18 months and is done at your own pace. You will apply the skills you have learned as you complete your "Wood Badge Ticket".
Note: Participants must be present all six days to complete the Practical Phase of this course.
When and where is Wood Badge?
Daniel Boone Council offers only one Wood Badge course every two years. Classes typically start in the spring, at Camp Daniel Boone, but one is not currently scheduled for 2020 or 2021.
How will Wood Badge help me?
Wood Badge will enable Scout leaders to deliver the highest quality scouting program by developing new skills and techniques.
What are Wood Badge beads?
Wood Badge beads signify that you have successfully completed your ticket and are worn with your uniform. You will receive your beads at a unique ceremony, as well as a taupe neckerchief with the famed MacLaren tartan, a leather woggle, and a special Wood Badge certificate.
What are the qualifications to take Wood Badge?
Wood Badge is a leadership course that is open to all registered Scout leaders. You will find leaders from Cub Scouts, Scouts, BSA, and Venture programs, as well as the District and Council levels.
Here are the qualifications:
Be a registered adult member of the Boy Scouts of America
Complete basic training courses for your primary scouting position
Complete any outdoor skills training program appropriate to your Scouting position
Be capable of functioning safely in an outdoor environment
Have a current BSA Class 3 physical
There is NO tenure requirement.
What are the facilities?
The course will be held at Camp Daniel Boone. Much of our training will be done in Ledbetter Lodge and vicinity. To help keep you in the Scouting spirit, you'll be sleeping in the finest accommodations, i.e. the great outdoors.
What do I wear?
Participants are asked to wear a Class A (dress) uniform for most of the course events. However, there are times when the less formal Class B (casual) uniform is acceptable. November tends to be chilly, but if you follow the recommended clothing and equipment list posted on the website, you'll be fine.