Nantahala Pinewood Derby
Date/Time:
Feb 29, 2020 1:00 pm to 3:00 pm
Location:
Andrews United Methodist Church
101 Chestnut St
Andrews, NC 28901
Location Phone: (828) 321-5216

Come out and join us for the Nantahala District Pinewood Derby!
1PM-3PM: Andrews UMC
Charge for boys $3.00/car. Charge for Outlaw (adults) $10.00/car
For more information contact: Phil Keller (828) 361-0611
RULES AND GUIDELINES:
1) You must use the official pinewood derby car kit.
2) Anyone can hlep you build the car.
3) Any tools can be used when done safely under adult supervision
4) Size and tolerances:
Length- 7 inches (max)
Width- 2 3/4 inches (max)
Distance between the wheels (side to side)- 1 3/4 inches
Ground clearance- 3/8 inch
Weight- 5.0 ounces
5) Axels must be interted into the existing slots in the pine block. The wheelbase cannot be changed or relocated. However, the car can be built ot run backwards.
6) Once the car has been "checked in", it cannot be touched again except under supervision of the staff until after the competiton.
7) No additional lubrication will be allowed after "check in".
8) All weights must be securly attached to the car. Replacing any loose weights will be done by the owner under supervision of the staff in charge.
9) If a broken car cannot be fixed by the owner, under staff supervision, it will be disqualified.
11) Adult rules- weight (XX 0Z), any length/ height/ wheelbase.
12) Trophies for boys, and the Outlaw race.
ALL REMEMBER THAT EVERY BOY WHO ENTERS A CAR IS A WINNER!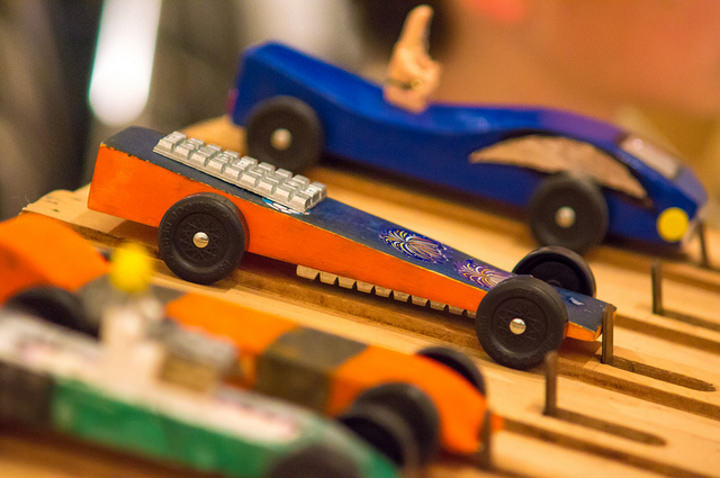 | Position | Name | Telephone | |
| --- | --- | --- | --- |
| District Chairman | Eddie Hollifield | (828) 269-1832 | Email |
| Toe River/Nantahala District Executive | James Hylemon | (828) 275-3075 | Email |
| District Commissioner | Phil Keller | | |