Fontana Classic Bass Tournament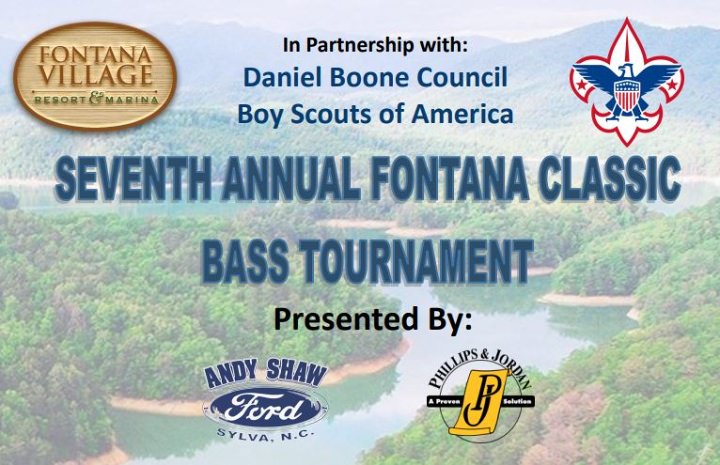 Date:
Mar 13, 2021 to Mar 14, 2021
Location:
Fontana Village Resort Marina
40 Fontana Dam Rd
Fontana Dam, NC 28733

The Daniel Boone Council, partnering with Fontana Village Resort & Marina, are excited to present the Seventh Annual Daniel Boone Council Fontana Classic Bass Tournament. Food, fun, fishing and awards are just a few things to look forward too.
Proceeds from the event help support the character and leadership development programs of Scouting for over 4,000 youth in WNC. A quality Scouting program contributes to the healthy development of young people by providing them the environment, resources and relationships they need to grow and learn. It's an investment in the future!
Participants will be fishing not only to Support Scouting, but to win CASH! A minimum of 38 boats must be entered into the tournament to receive full payouts.
2021 Prize Payouts:
1st Place Boat: $2,000
2nd Place Boat: $1,000
3rd Place Boat: $600
4th Place Boat: $400
5th Place Boat: $300
6th Place Boat: $200
7th Place Boat: $150
8th Place Boat: $150
Largest Small Mouth Bass: $150
Largest Large Mouth Bass: $150
CATCH THE NORTH CAROLINA STATE RECORD SMALL MOUTH BASS & WIN A 2020 F-150 4X4 TRUCK PROVIDED BY ANDY SHAW FORD
Single Boat Registration will be $150 per boat. Two (2) fishermen per boat.
Lodging will be FREE for Gold, SIlver and Bronze Level sponsors, One (1) night stay. A Lodging Special of $75 will be provided at an extra cost to single boat sponsors. Two bedroom cabin rentals will be $150 per night (two night minimum).
WHEN: March 13th & 14th
To view the Tournament Flier, RSVP form with sponsorship levels and rules CLICK HERE.
If you are interested in sponsorship opportunities or would like to participate please contact James Hylemon at 828-275-3075 or james.hylemon@scouting.org
To Register please visit our REGISTRATION PAGE or text "BASS" to 76278