Eagle Resources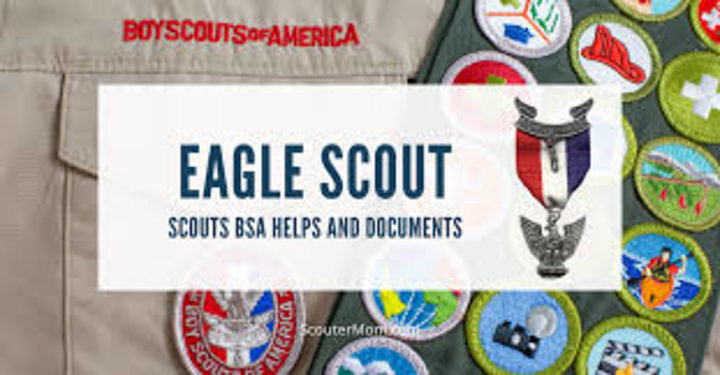 The following links are helpful for preparing and submitting the Eagle Scout Rank Application and Eagle Scout Service Project Workbook.
The BSA policy states in the Guide to Advancement, that ONLY the most current version of the Eagle Workbook and the Eagle Rank Application can be accepted by the Council office. Additionally, the BSA has been known to frequently update these documents, so please remember to go to the link to make sure you are using the most current version available.
Note: If a Scout comes in with any of the older versions they will be not be accepted it must redone on the newest version.
For information regarding how to submit Eagle Project Proposals or Eagle Rank Applications to the Daniel Boone Council, please click here. To view the Life to Eagle training video that James Leveritt hosted for the Looking Glass District on 10.30.21 please click here.
Beyond Eagle
Palms - After successfully completing your Eagle Scout board of review on or after Aug. 1, 2017, and being validated as an Eagle Scout by the National Service Center, you will be entitled to receive an Eagle Palm for each additional five merit badges you have completed before your Eagle board of review beyond those required for Eagle. All current Scouts who have completed their Eagle board of review and who had not passed their 18th birthday before August 1, 2017 are also entitled to receive Eagle Palms
The Glenn A. and Melinda W. Adams National Eagle Scout Service Project of the Year Award - An annual recognition of the high quality of Eagle Scout Service Projects. Each Council is entitled to one representative and that Scout earns the Bronze level which is a Bronze pin that can go on the Scout's Eagle Medal or Eagle Square knot when an adult. The council representative is sent to the Region and one Regional winner is selected (Silver Level) and the 4 regions send their nominee to National for the Adams Award winner (awarded at the Annual National Meeting) and Gold pin.
*Eagle Scouts Must complete this form & turn it in with their Eagle Service Project Notebook to be considered for this award. If their Service Project is selected by their local council as "Council Eagle Project of the year" The Council NESA Committee will sign the Application & send the winning Eagle Project to National for consideration for "National" Eagle Project of the year."
National Eagle Scout Association - The National Eagle Scout Association is an organization of men who have earned the rank of Eagle Scout in the Boy Scouts of America. NESA's stated objective is "to serve Eagle Scouts and, through them, the entire movement of Scouting."
Special Awards for Eagle Scouts
International Fellowship of Scouting Rotarians
The IFSR will provide special certificates for Eagle Scouts. Please reach out to your District Advancement Chair for more information, as this can be presented at a Eagle Scout Court of Honor by a local Rotary representative
Marine Corps League
This congressionally chartered veterans organization recognizes Eagle Scouts with a "Good Citizenship" certificate. Thirty days' notice is required.
When possible, the league might even have a Marine present the certificate at the Eagle court of honor.
Apply here.
FBI Certificates for Eagle Scouts
The Federal Bureau of Investigation will provide special certificates for Eagle Scouts. Requests should be sent to:
Executive Secretariat
Room 6236, J. Edgar Hoover Building
Federal Bureau of Investigation
935 Pennsylvania Avenue, NW
Washington, DC 20535-0001

Include the Eagle Scout's name as it should appear on the certificate, the address to which the certificate should be sent, and the Eagle's unit number and council name with your request.
Other Awards
Visit the volunteer updated and maintained site here to view more awards, certificates, and congratulations available!
Resources:
Submitting Eagle Project Proposals, Eagle Rank Applications, other Advancements, and Training Issues
List of Daniel Boone Council Eagles
National Eagle Society Association
| File Name | Description | |
| --- | --- | --- |
| Contact Info Sheet for Eagle Rank | | Download |