Eagle Resources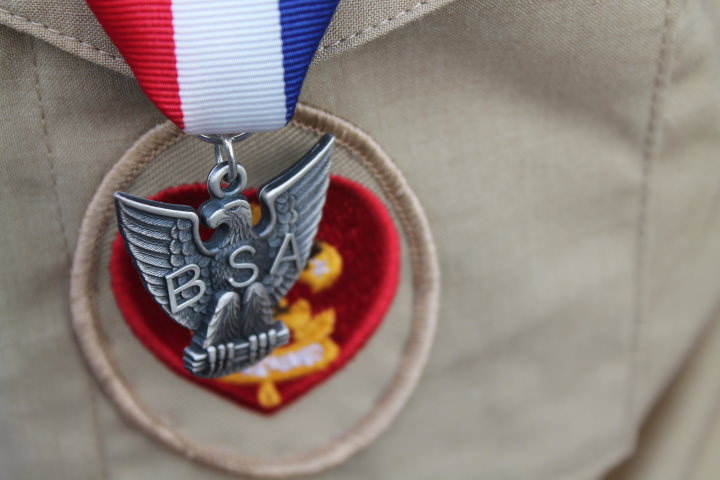 The following links are helpful for preparing and submitting the Eagle Scout Rank Application and Eagle Scout Service Project Workbook.
The BSA policy states in the Guide to Advancement, that ONLY the most current version of the Eagle Workbook and the Eagle Rank Application can be accepted by the Council office. Additionally, the BSA has been known to frequently update these documents, so please remember to go to the link to make sure you are using the most current version available.
Beginning on January 1, 2023:
Eagle Scout Service Project Workbook:
All Eagle Scout Service Project Workbooks must be completed by being TYPED OUT (except for approval signatures). Once it has been typed out and printed, the Scout will then obtain manual signatures from required positions within the Troop
Eagle Scout Rank Application:
The unit will now be responsible for generating and printing out the correct version of the Eagle Rank application for the Scout. Again, this must now be obtained by the Unit directly from the Scoutbook Internet Advancement system (typed out) as that system is linked directly to the local Council and should minimize any missing information. Remember to make sure leadership positions have been entered into the Scouts profile in Scoutbook. Once the application has been generated and printed by the unit, the Scout will then manually write in their references with contact info and then obtain manual signatures from required positions within the Troop.
NOTE: If a Scout comes in with an outdated version or one not typed out or generated via the Scoutbook system, the paperwork will not be accepted; they will be required to complete the corrct version in the correct format and then request an appointment to return on different day to turn in for apporval.
| File Name | Description | |
| --- | --- | --- |
| Current Eagle Process for DBC - Updated January 2023 | | Download |
| Eagle Scout Contact Information Sheet - Updated January 2023 | | Download |
| Eagle Scout Project Proposal Meeting Request Info - Updated January 2023 | | Download |
| Handout - Statement of Ambitions and Life Purpose Letter - Updated January 2023 | | Download |
| Scoutmaster Board of Review Request Fillable Form - Updated January 2023 | | Download |