Cub Scouts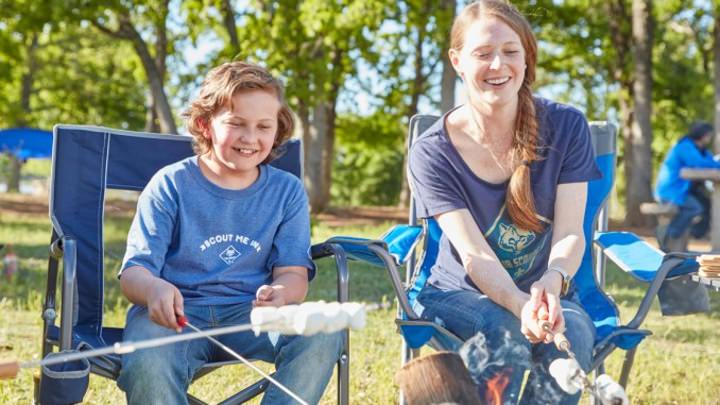 Learning About Cub Scouts
Do you like having immense amounts of fun with your friends and family? Do you want to learn new things in a safe environment designed to help you succeed? Are you aged 5-10 (in grades Kindergarten to fifth)? CUB SCOUTS IS FOR YOU!
Whether you'd like to build and race your very own Pinewood Derby® car, learn how to roast the perfect marshmallow for the best s'more, or learn survival skills with friends, Cub Scouts has it all! It's time to have some fun! Join us today!
Have Fun with Other Kids
Boys and Girls have a fun and safe place to go with family, friends, and positive attitudes. Cub Scouts develop skills like self-responsibility, confidence, and willingness to help others while earning fun awards along the way!
What Will I Do in Cub Scouts?
As a Cub Scout, your family will go fishing, camping, hiking, and dancing! You will go on adventures to the great outdoors, museums, cities, and towns. You will learn about the past and discover the future together! Make lifetime friends and grow together as you experience all that Scouting has to offer.
How Often Do We Meet?
Cub Scouts meet in age-specific dens either every week or every other week! Once a month, all the dens meet together in a Pack Meeting to showcase talents, present awards, and have an all-around GREAT time!
In addition to regular meetings, Cub Scouts have the awesome opportunity to go on amazing field trips or hear from special guest speakers! Your family will get to experience:
Emergency Response workers like Firefighters and Police Officers!
Learning First Aid directly from Nurses and EMTs!
Trips to local attractions and businesses!

Art galleries, museums, animal shelters!

Camping and hiking in your communities!
Scouting events like Pinewood Derbies and Parades!
Anything you and your den can imagine!
Who Can Join?
Boys and Girls ages 5-10, or in elementary school grade K-5, can join Cub Scouts.
What's the Cost?
The membership fee to join Scouts is $78 per year (plus a one-time registration fee of $25) and is pro-rated monthly. Other costs for uniforms, activities, and camping trips are not included in the membership fee. We offer two council-wide fundraising programs per year to help keep costs low. By participating in these fundraisers, your scouting experience can even be without any cost to you!
How Do Cub Scouts Include Parents and Guardians?
Cub Scouts engages the whole family unit. Parents and Guardians are encouraged to participate as the "Akeala" or "Guiding Leader." As a Lion or Tiger Scout (ages 5-6/grades K-1), you and your Scout will be partners in experiencing Scouting together. As your Scout matures, you become a guide and watch as they take on more leadership and responsibility. Together, you will complete adventures involving magic, math, science, and safety. From camping to computer safety, your family will learn an abundance of skills. You will experience Astronomy and Yo-Yo's and every letter in-between!
Scouting is a volunteer-led program. Each Scout pack is sponsored by a local community organization. Parents are encouraged to get involved as a den leader, pack leader, or unit volunteer. Scout leaders get to guide the next generation of youth and their families, improving the community through fun-filled activities that teach values of the Scout Oath and Law. The quality of our nation's future depends on the choices we make right now. We are counting on you and, more importantly, our young people need you…especially in today's world.
How Do We Get Started?
Join Cub Scouts at any time! To register today, Click HERE. To speak to someone directly, please call (828) 254-6189.