Cub Parent Weekend - Spring 2021
Date/Time:
Apr 17, 2021 9:00 am to Apr 18, 2021 12:00 pm
Location:
Camp Daniel Boone
3647 Little East Fork Rd
Canton, NC 28716
Location Phone: (828) 254-6189

Please join us for the Spring Cub Parent Weekend this April 17th and 18th at Camp Daniel Boone!
This is a family-focused weekend that provides a unique and special bonding experience between a Cub Scout and a parents or guardians. Join us for fun-filled activities, thrilling games, and non-stop outdoor action! All registered Cub Scouts can attend. Cub Scouts must be accompanied by a parent or legal guardian.
These questions should be asked of your group Saturday morning before arriving at camp. If anyone has these conditions, unfortunately, they will not be allowed to participate in the weekend events and will need to return home. Contact Wendy Henderson to discuss a refund. We will also ask these questions and take temperatures at check-in; just part of the protocol.
Do you have:
A cough Headache
Shortness of breath or difficulty breathing Chills
Repeated shaking with chills Muscle pain
Soar throat Loss of taste or smell
Diarrhea Feeling feverish
Known close contact with a person who is lab-confirmed to have COVID-19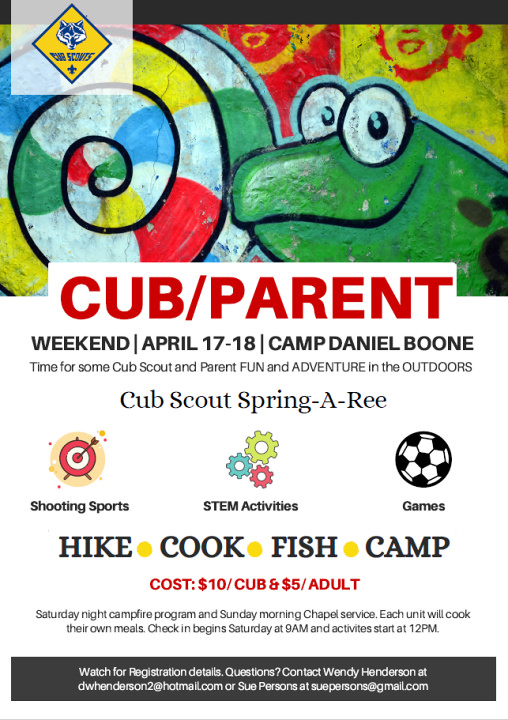 | File Name | Description | |
| --- | --- | --- |
| Cub Parent Spring 2021 Guide | | Download |