Cub Parent Weekend - Spring 2022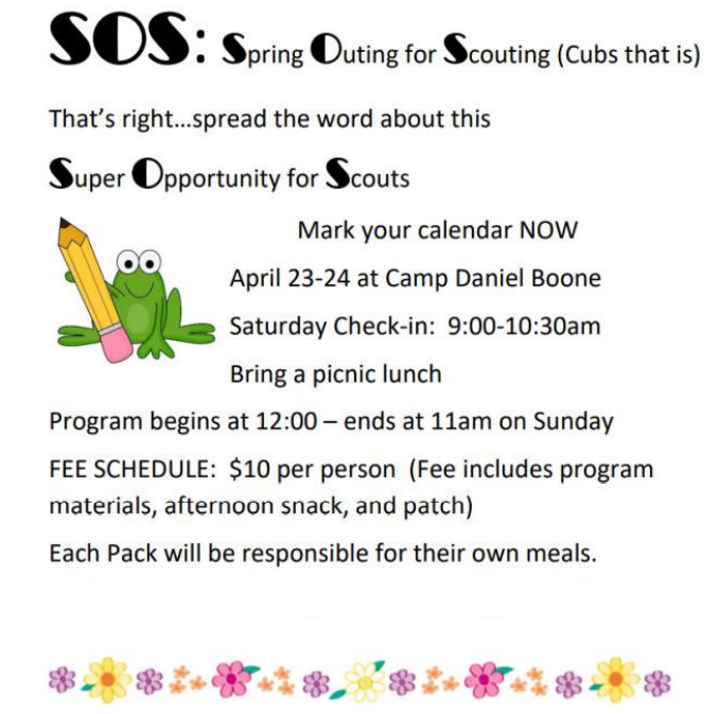 Date/Time:
Apr 22, 2022 9:00 am to Apr 23, 2022 12:00 pm
Location:
Camp Daniel Boone
3647 Little East Fork Rd
Canton, NC 28716
Location Phone: (828) 648-0435

Please join us for the Spring Cub Parent Weekend this April 22nd and 23rd at Camp Daniel Boone!
This is a family-focused weekend that provides a unique and special bonding experience between a Cub Scout and a parents or guardians. Join us for fun-filled activities, thrilling games, and non-stop outdoor action! All registered Cub Scouts can attend. Cub Scouts must be accompanied by a parent or legal guardian.
WHO: The weekend is designed for Cub(s)/Parent Combos: Lions, Tigers, Wolves, Bears, and Webelos, may attend the weekend!
WHEN: April 22 - 23, 2022
WHERE: Camp Daniel Boone!
| File Name | Description | |
| --- | --- | --- |
| 2020 BSA Health Form | | Download |
| 2022 Spring Cub Parent Weekend Event Info | Click here for important information about this exciting event! | Download |
| 2022 Spring Cub/Parent Registration Form | | Download |
| Daniel Boone Council Covid-19 Warning and Waiver Form | | Download |